Administrator
Staff member
Plenty of cruise ships in Argostoli next year, hopefully some of the revenue will get shared around the island!
117 + Cruise Ships arrivals in 2019 – MSC returns with 17 arrivals!! – The whole program.
The editorial team of Kefaloniapress for another year gathers data from the specialized sites in the traffic of cruise ships around the world, and presents to you the scheduled arrivals in Kefalonia for the new Year of 2019.
This year we will welcome to Argostoli 117 cruise ships (in the list) and three (3) in Fiskardo (Off-list).
√ The great news in the cruise of 2019 is that the MSC company returned to Kefalonia with the cruise ship Lirica with 17 even arrivals! Lirica offers a luxury cruise to 2,366 passengers and employs 700 staff.
The recovery of the company in Kefalonia is due to the efforts of its agent in Corfu Mr. Gregory Vlachopoulos and her antiproswpoy in Kefalonia Mr. Yiannis Vassilatou. Warm congratulations to both of you!
Warm congratulations also to the other two shipping agents of our island who either increased or retained their arrivals: Mrs. Koula Zampeli and Mr. Dionysis Ertso, with a special highlight:
Koula Zampeli AINOS TRAVEL
Mrs. Koula Zampeli, co-owner of AINOS TRAVEL, emerges as the queen of the cruise with the most arrivals in 2019:67 Arrivals in Argostoli and 3 (three) in Fiskardo (not recorded in the list below).total: 70!!!
The arrivals schedule 2019 as recorded to date:
The season will open with the COSTA on 18 April and will be closed on 12 November with the Norwegian Spirit. We wish for many interim emergency arrivals!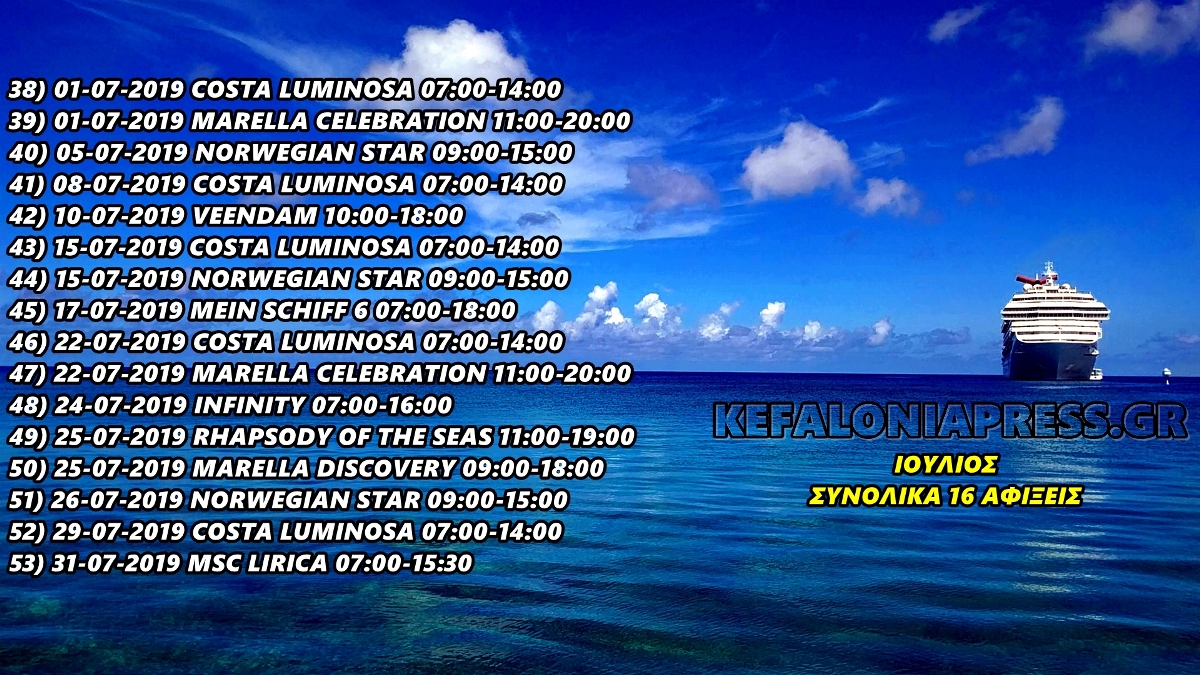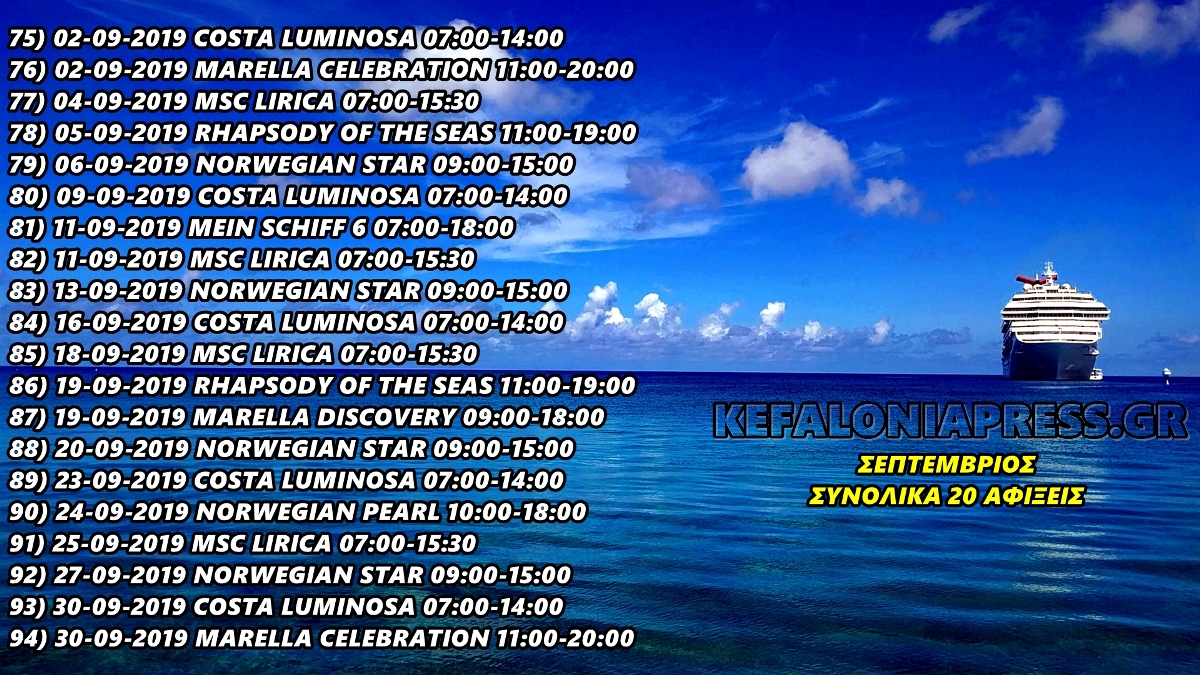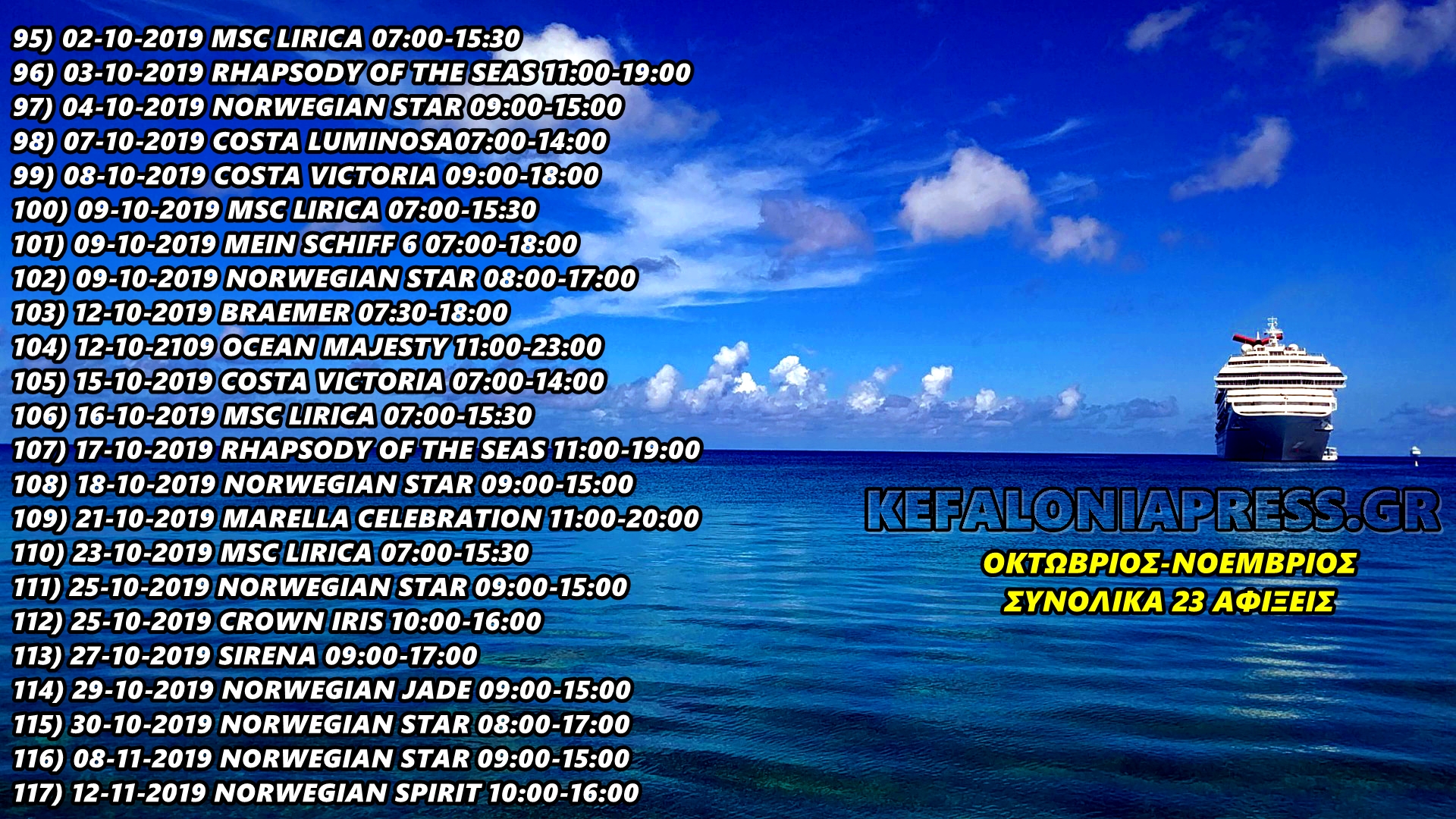 Source - kefaloniapress.gr